If you're like us, you may have a problem when it comes to displaying your large book collection with the space you have available in your home. Well, you will be surprised how you can display your collection in a stylish and easy-to-manage fashion! We have put our brains together and put together this list of tips for displaying books in your home.
10 Tips for Displaying Books at Home
1 – Gather All Your Books & Clean Your Display Spaces
Starting, you will want to clean and wipe down your bookcases, display cabinets, and other locations where you may have your books. Now it may seem laborious and counter-intuitive but gathering your books into one place can also allow you to reassess how your displays are laid out.
2- Sell Your Old Unwanted Books
It must happen sooner or later, but we all have additions to our collections that we no longer intend or want to read. It is totally fine if you want to keep every single book in your collection. But take a step back and think.
Will I read this book?
Have I read this book yet?
Will this book make a great gift?
Who do I know will want this book?
If you conclude that you want to sell some of the books in your collection. Use popular sites such as eBay, Shpock, Gumtree, or visit a local independent book shop to see how much they would take it for.
3 – Rethink Where You Are Displaying Your Books
As mentioned in tip #1 you may want to take the opportunity to change where your books are on show. You may want to move your display cabinet or bookshelf to a new location in the room. Or maybe you need to add more storage for your books such as floating shelves.
You also need to consider which books need protection and which ones do not. If you have some rare or older books, it is best practice to keep these out of the sunlight as the UV rays can deteriorate books over time with sun bleaching and humidity.
4 – Go to Your Favourite Bookshops
Take a walk around your favourite bookshops and libraries if you have the opportunity. Take note of how they display books and how it makes you feel. Do they have a reading nook? What bookcase design do they use? Neoclassical design or a more modern design? Or maybe they have a trolley bursting with books just ready to pick up and read.
Going to these places can invigorate you with ideas for your book collection, so visit as many as you can. You don't know which one will spark that bulb of inspiration.
5 – Remove Old or Dusty Dust Jackets
This is purely personal taste, but dust jackets can dampen the style and appearance of some books. If you have some hardback books that have thin paper dust jackets, removing these can show the beautiful bold colour hidden beneath.
6 – Use Storage Baskets for Damaged and Smaller Books
Having every single book in your collection on display sounds amazing, but it can make your bookshelf or cabinets appear overly busy and full, note storage pros at Fantastic. If you have damaged books that have wear and tear on them, consider buying weaved storage baskets to store these books. The same goes for smaller books such as travel guides and pocket books as these would only take up unnecessary and important storage space.
7 – Separate Hardbacks and Paperbacks
It goes without saying, but hardback books are a lot more appealing on the shelf than your standard paperback. Hardbacks give off the sense of timelessness and traditional style that you will find in older book collections.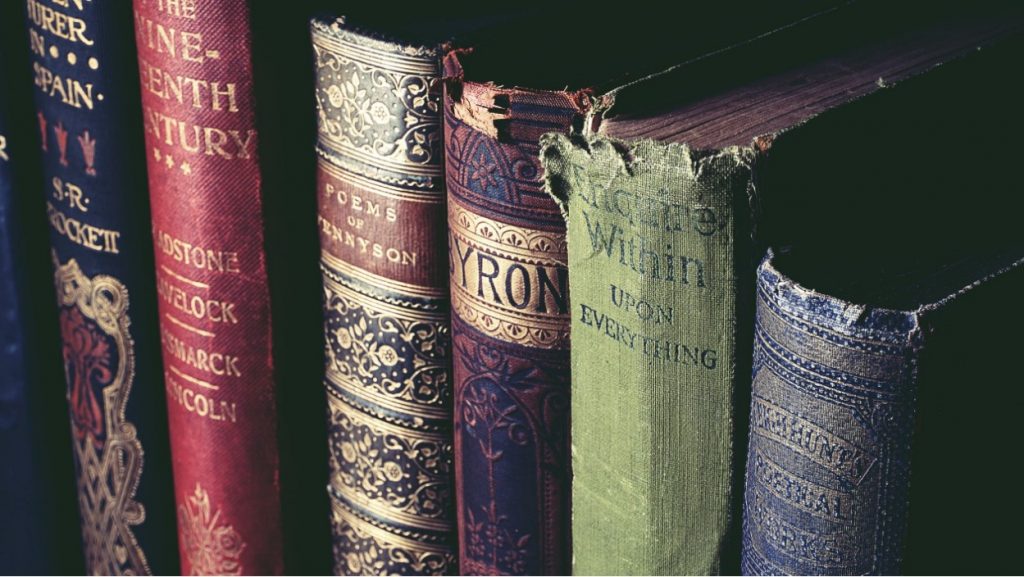 Keeping the two formats separate can create a sense of uniformity and won't disturb the flow of your collection.
8 – Organise
There are multiple ways you can organise your collection, but here are a few ways you can influence the display of your books.
Alphabetically By Author
Organising your books using this method is a great way to have variation across your display as every book will be different in size, width and height. Really grabbing the attention of any guests that may visit. It is also a great solution to easily find your favourite authors' works.
Fiction and Non-Fiction
Another great way of organising your books is to separate fiction and non-fiction. Having them clearly separated by leaving space for a plant or other object. Even having them on two separate bookcases if you have the space. You can install that library or bookshop feel into your space.
Colour
Book spines have a myriad of colours that can really make your display pop! Have a rainbow of colour sweep across your bookcase, shelves, or display cabinet. This style of organisation is guaranteed to impress.
Topic & Category
For those who want a super organised and easily navigate the way of organising their collection. Organising your books by topic and category will not only keep your collection neat and easy to use. But will also make your collection look larger than it is!
9 – Place Larger Books Towards the Bottom
Placing your larger books towards the bottom of your display units will give a sense of stability to your display. Doing this will also naturally draw the eye upwards, making your collection appear taller and much bigger!
Having a top-heavy display will look odd and unorganised.
10 – Introduce Plants, Vases and Other Pieces
If your collection has gaps or spaces, you can fill these by using picture frames, vases, and plants to add more shapes and colours to your display. Place larger objects first then move onto smaller pieces.
If you have sentimental pieces make sure to include them to really make it your own.
In Conclusion
There are many ways you can improve the way you display your books. By using some or all of these tips to improve your book display, you are sure to impress yourself and your guests with its attractive style and appearance.
Thank you for reading our piece on 10 tips for displaying books at home. If you are hungry for more why not read some of our other pieces such as why is Shakespeare relevant today and 10 quick reads perfect for the underground.